News
First Call for Central Baltic Programme 2021–2027 now open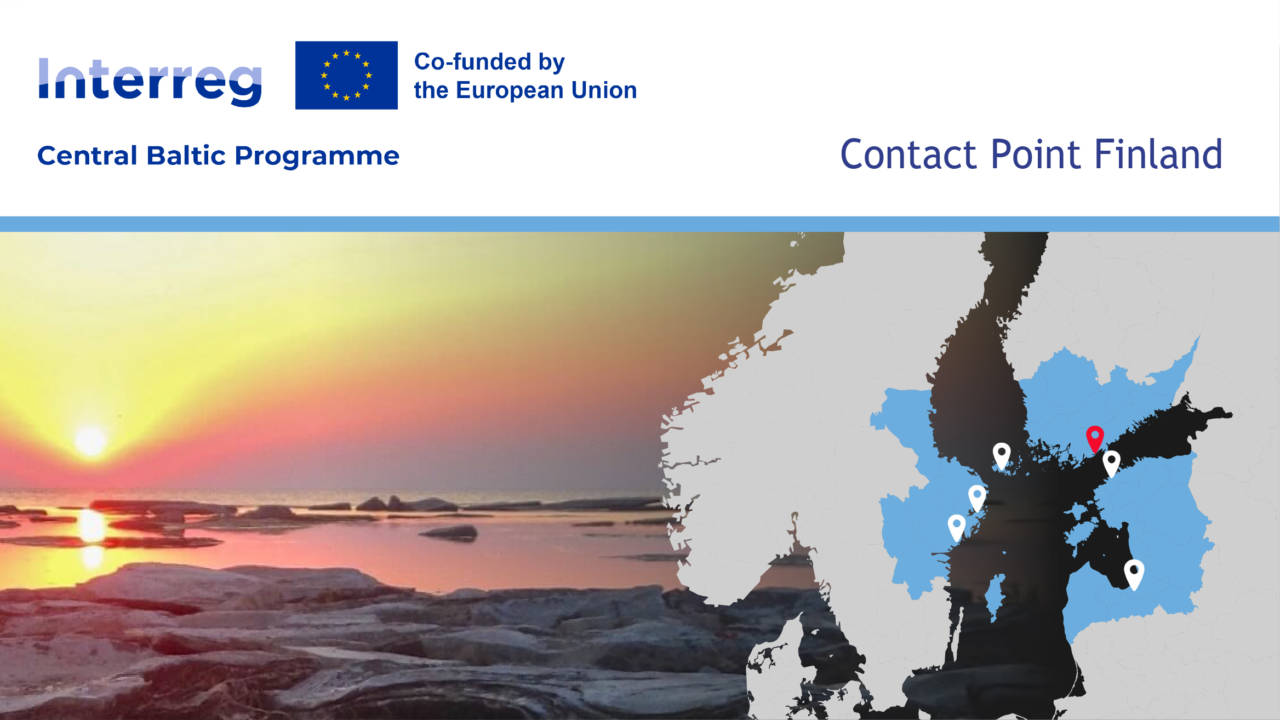 The first call for the new programme period is open from the 10th of February until 12pm (GMT+2) on the 31st of March 2022. During the programme period 2021–2027, there is 118 million euros of funding available from the European Regional Development Fund.
You can apply for funding for all seven programme objectives under the four thematic areas. The seven programme objectives are:
INNOVATIVE BUSINESS DEVELOPMENT
1. More exports by small and medium enterprises
2. More new scaled-up growth companies
IMPROVED ENVIROMENT AND RESOURCE USE
3. Joint circular economy solutions
4. Improved coastal and marine environment
5. Decreased CO2 emissions

IMPROVED EMPLOYMENT OPPORTUNITIES
6. Improved employment opportunities on labour market
IMPROVED PUBLIC SERVICES
7. Improved public services and solutions for the citizens
More information on the new programme period and its objectives:
Key documents, such as the Programme Manual, Guide for Applying for a Project as well as the Project Idea Form:
New Electronic Application and Reporting System
During the programme period 2021–2027, a new electronic application and reporting system, Jems (Joint Electronic Monitoring System), will be introduced. Two events will be held on the 15th (10:30-13:30) and 17th (13:00-16:00) of February respectively, to introduce Jems.
After these events, applicants are expected to know how to register into Jems, understand the system's logic, know how to fill in an application form and understand what to consider when applying for funding. Both events will be recorded, and the recordings will be uploaded to the Central Baltic Programme's website.
The registration for the Jems-introduction events is open until 10am on Monday February 14th. A Zoom-link to the events will be sent with the registration confirmation.
The registration and further information on the Jems-events:
National Contact Point Finland
Ms Safira Schubak has taken over the role of National Contact Point Finland since January 2022. Safira is happy to answer all questions you may have regarding the Central Baltic Programme in English, Finnish as well as Swedish.
If you have any questions, you need primary consultation on your project idea or are looking for a project partner, please do not hesitate to be in touch.
Central Baltic on Social Media
To make sure you do not miss out on any of the Programme's activities and developments, you should follow the Central Baltic Programme on social media. Follow Central Baltic on Facebook(You are transferring to another service), Twitter(You are transferring to another service) as well as on Instagram(You are transferring to another service).
Newsletter
All official programme documentation, event recordings and contact details can be found on the Central Baltic website, where you can also subscribe to Central Baltic's newsletters to get the latest news straight to your inbox.
For more information, please contact: